500 Hour Swedish Massage Certification with Contraction Release Therapy (CRT)
Training
Swedish Massage Training
Jeffrey Cottam has 30 years of massage experience in a private practice and as a massage instructor in his own massage school built on innovation, not the status quo.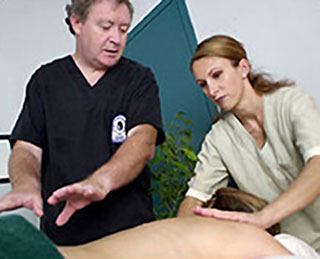 Expect therapeutic treatment sessions and training sessions that do not resemble any massage experience or training you have ever experienced before. Treatment sessions that resolve chronic pain in unique ways, utilizing massage techniques which often start at the heel with long sweeping strokes … taking hands up through the leg, thigh, hip, back, shoulders and neck without stopping … treating your body as a whole organism, not separately, as so many various parts. Unique, holistic massage experiences for clients and massage training sessions for students.
Canada`s largest professional massage association, Natural Health Practitioners of Canada (NHPC) describes Aromatica`s Myomassology Massage training program as the `holistic version of massage therapy`. The reason is because studentd are trained to assess their client`s alignment issues and correct any misalignment at the source.
Contraction Release Therapy, CRT ™ ©
Aromatica's Jeffrey Cottam received the prestigious 'Myomassologist of the Year' award from the International Myomassethics Federation in Detroit in 2000. This was for his contribution to the field of massage and in particular for the pioneering work in his own, unique, innovative approach to treating back pain which he calls Contraction Release Therapy, or CRT.
CRT is now a respected Trademarked and Copyrighted term in the massage field. Cottam noticed that his patients with chronic back, neck and shoulder pain usually have one leg shorter than the other. This was back in the early 1990's. This condition is called 'Apparent Short Leg Syndrome' because the bones of the two legs are not of different length, the short leg is caused by tight gluteal muscles of the hip on the short side which pull and cause the thigh into a higher plane when compared with the other leg. It is not the leg bones that cause the leg length discrepancy, therefore, but tight, tense, contracted hip muscles.
The collective thought in the field is to treat this condition by ordering expensive shoe orthotics to shim or bolster the short leg.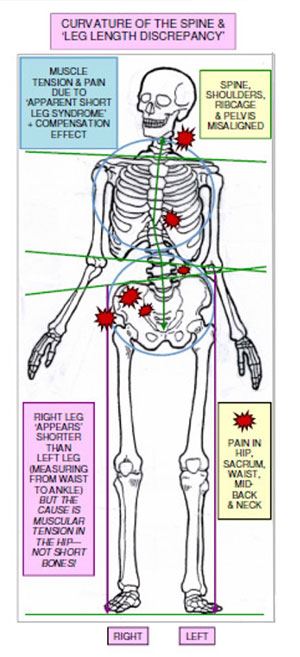 Cottam thinks differently, however and he releases tension in the hip and corrects this condition 100% of the time. He always takes digital photos of his client's heels on the massage table before and after … to prove his point! And the point is … that you do NOT require expensive custom-made shoe orthotics. Lifters and shims are useful for bolstering doors and windows NOT the human body.
Instead, Cottam tracks pain through the body. Active and passive techniques are utilised, muscles are isolated and placed into false contractions. Unique friction techniques release tired, aching muscles by infusing them with fresh oxygenated blood and lymph, bathing and lubricating them. This infusion of blood and lymph deep inside the muscle is the key.
This assists in the healing process, removing painful toxins and lactic acid. A systematic assessment and treatment protocolprocess is continued throughout the body thus returning the musculoskeletal system to true homeostasis and perfect alignment for the client once more.
This is a radically different, truly unique, holistic approach and very different from the RMT approach that clients would be familiar with in Canada.
The hips are the foundation of the spine. Having a pelvic tilt causes the spine to have scoliosis and look like the 'Leaning Tower Of Pisa'. Cottam corrects this'foundation' to restore leg length equity and the spine stands true and tall again … like the 'Eiffel Tower' … and, remarkably, pain disappears.
---
Career Choices
As a Practitioner graduating from this program, you will be in a position to:
Establish your own private practice
Work with other health care professionals at Natural Health Clinics
Work in Health Spas, Vacation Resorts, Cruise Ships
Admissions Requirement
Minimum 18 years of age and a High School Diploma or equivalent. Once the application has been processed, students must complete an enrollment agreement before commencing. All admission procedures must be completed prior to the first day of class.
Tuition Fee
Total: $5995.00 CDN (this is an all-inclusive fee.) Tuition fee includes all text books, manuals, Aromatica scrub uniform and examination fees – you pay one price only! The Registration Fee (or Deposit) is $500.00 and is non-refundable. This is required to reserve your place in class and once you have received notification this fee is used to purchase your books and scrub uniform, prior to the first day of class. The balance of the tuition fee ($5495.00) is due on or before the first day of school. A Payment Plan is available. There are no refunds after course materials have been issued.
Registration
A completed application form with a $500.00 non-refundable registration fee is required. This will reserve your place in class. Class size is limited so we recommend submitting applications early to reserve your place.
Course Material
The books you receive are:
AROMATICA™ Massage Instruction Manual
Anatomy & Physiology Text Book Learning System plus Companion Work Book
Massage Therapist's Guide to Pathology
Manual for Contraction ReleaseTherapy