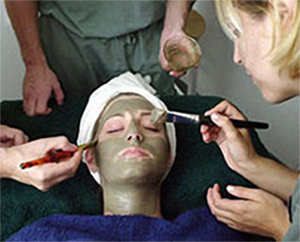 Become a Certified Aroma Spa Therapist – Ontario Training
Aroma Spa Certification – Spa treatment is one of the fastest growing fields in stress reduction. Our Aroma Spa Certification Program makes an excellent adjunct to body-work training and gives you the opportunity to expand your practice. Including spa treatments in your practice also reduces repetitive stress on your hands from intensive forms of bodywork.
Aromatica's Aroma Spa Program is unique because it not only covers a variety of modalities, from facials to cellulite treatments, but your training includes making up your own face and body blends. No expensive wet room or equipment is required.
For mood and immune system elevation, body wraps are proven to offer solid health benefits. Learn all about the benefits of hydrotherapy.
Curriculum
Module I
Aromatherapy Facials: learn how to give a full one-hour aromatherapy facial treatment, using all natural products.
Module II
Cellulite & Salt Glow Treatments: cellulite is a build up of toxins and fat in the tissues, which can be reduced by regular treatments, as well as home treatments. Learn the benefits of exfoliation and special aromatherapy blends specific to cellulite.
Module III
Aromatic Body Wraps
Thalassotherapy & Mud Treatments
Exfoliating techniques
Essential oils for spa treatments
Number of hours: 50
---
Upon successful completion, the graduated student will receive a certificate as a "Certified Aroma Spa Therapist".
Admissions Requirement
You must be a certified bodywork practitioner.
Registration
A completed application form with a $200.00 non-refundable registration fee to reserve a place in class. Class size is limited and we recommend submitting applications early to reserve your place.
Tuition
Total cost of tuition is $975.00. Once the $200.00 registration deposit is paid, the balance of $775.00 is due on the first day of class (prices are in Canadian dollars). Fees include the manual of information, all course materials and exam fee.