Jeffrey Cottam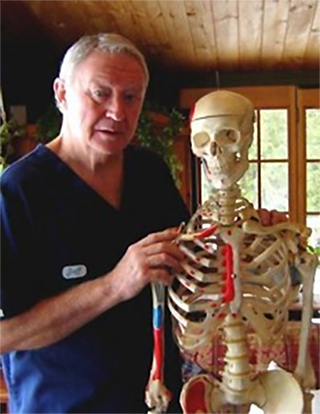 Work and Training
Jeff was born in Manchester, England and received his training and certification in Myomassology Massage in the USA. Myomassology is known as the 'holistic version' of Massage Therapy (independent reference: Natural Health Practitioners of Canada). Cottam is also a Doctor of Acupuncture, Certified Reflexologist and Certified Cranio Sacral Therapist. He opened his own school of Natural Medicine called Aromatica in June, 1997. He was solely responsible for introducing Myomassology into Canada, along with many other forms of bodywork trainings such as Tui Na Therapy (known as Chinese Medical Massage) for the very first time. His own study, research and private practice formulated a unique form of treatment protocols for his own clients to combat chronic muscular pain. He called his treatment protocols Contraction Release Therapy (CRT)and has trademarked this term with the Canadian Intellectual Property Office.
Graduates of his Myomassology training and Canadian health care consumers have all, subsequently, benefitted from these new therapeutic techniques for resolving chronic back pain.
He was rewarded for his pioneering work in back pain management when he was presented with a prestigious international award: "Myomassologist of the Year" by his peers at the International Myomassethics Federation's annual conference in 2000 where they also presented him with 2 Service Award Medals for his contribution to the IMF's association. This is a 'North America continent-wide' award. He is the only non-US citizen  to have received this award.
Intro To Myomassology
Myomassology had never been taught in Canada before Cottam introduced it into Ontario. He wanted to teach students this new holistic version of massage that he had discovered in the USA. In his opinion, it is very different to Massage Therapy training that RMT's receive in Canada because of it's holistic approach and it's focus on aligning the body correctly. Myomassologists measure leg length and correct leg length discrepancies at the source, using CRT methodology.
Myomassology training also has much less medical school focus on Anatomy & Physiology studies and much more focus on `hands-on` training than RMT training … thereby aligning Myomassology with massage therapy training found elsewhere on the globe … in the USA, UK, Europe, Australia and New Zealand in particular.
Many Talents
Cottam is an accomplished wildlife and portrait artist. He is a wildlife photographer of the Canadian scene also. The fine pencil drawing below is one of his entitled Inuit Woman and Child which he completed in 1983.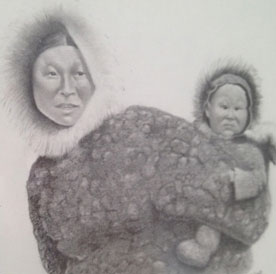 This photograph of a moose below was taken while on a trip to teach in Northern Ontario. He spotted this moose in the bush near Temagami in 2010 and pulled over to photograph it in this natural woodland habitat.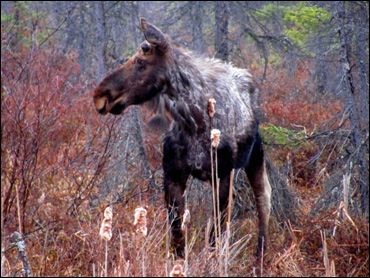 The photographs of the black bear below were both taken from the safety of his own living room window at Cape Chin on the Bruce Peninsula.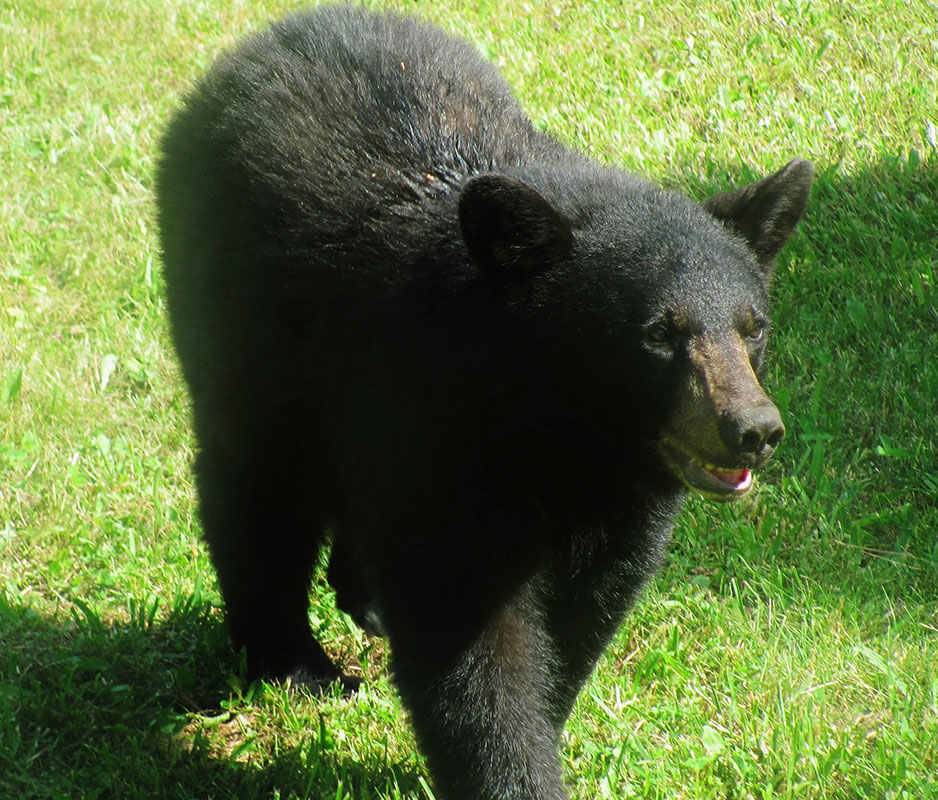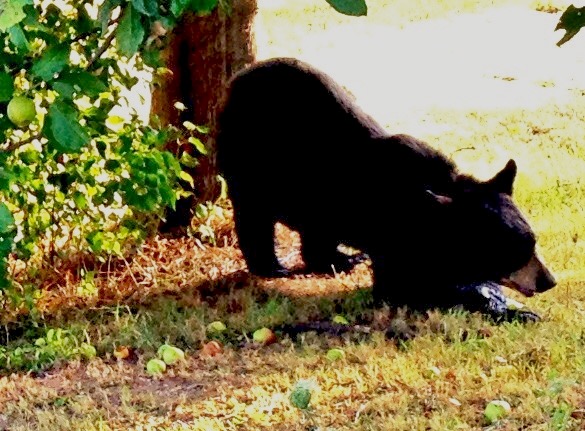 Cottam has had a long love affair with the theatre. He is a dedicated stage performer and director in venues across Ontario and in movies for over 30 years.
Here he is in 2018 appearing as Scrooge in his one-man show called A Dickens of an Evening that ran in 8 cities across the province in the Niagara region, Toronto, Ottawa and closer to home in Shelburne.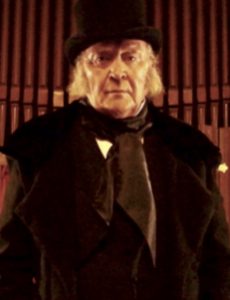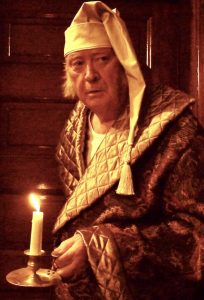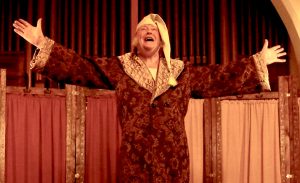 He played the leading role of Reverend Anderson in George Bernard Shaw's play The Devil's Disciple, below.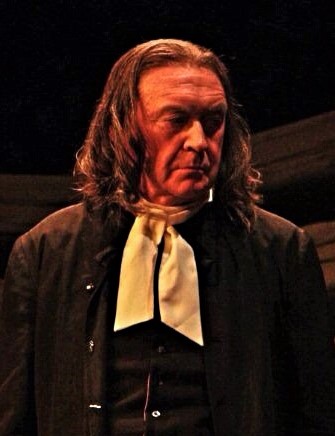 Below, in pensive mood, as Major Metcalfe being questioned by the detective in The Mousetrap.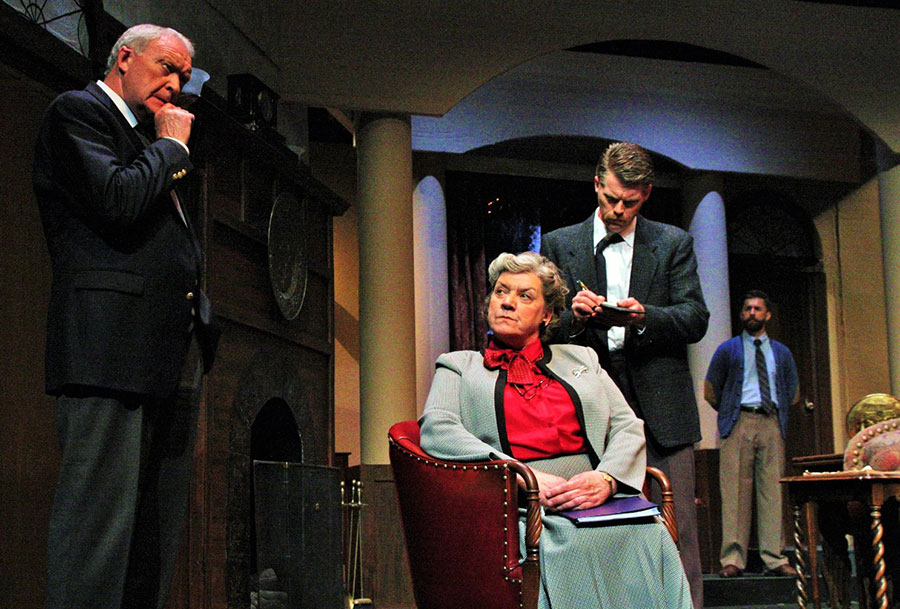 The photo below is from My Fair Lady, where he appeared as Colonel Pickering. This is a scene with Professor Higgins in his study.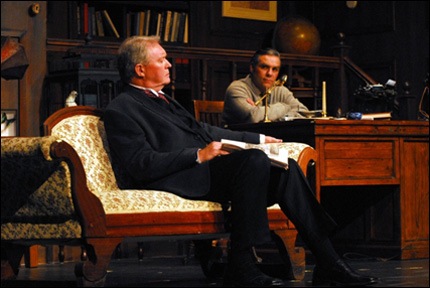 During the Christmas season he has appeared with Georgian Bay Concert Choir in Handel's Messiah in Owen Sound and sang and appeared as narrator in numerous Christmas Cantatas at Lion's Head on the Bruce Peninsula.
He has been a Christmas Story Teller for the Friends of the Library at their annual fund-raising events in Tobermory.
January each year usually finds him kilted as Master of Ceremonies for annual Robbie Burns Dinners where he delivers an animated, dramatic version of The Ode to the Haggis.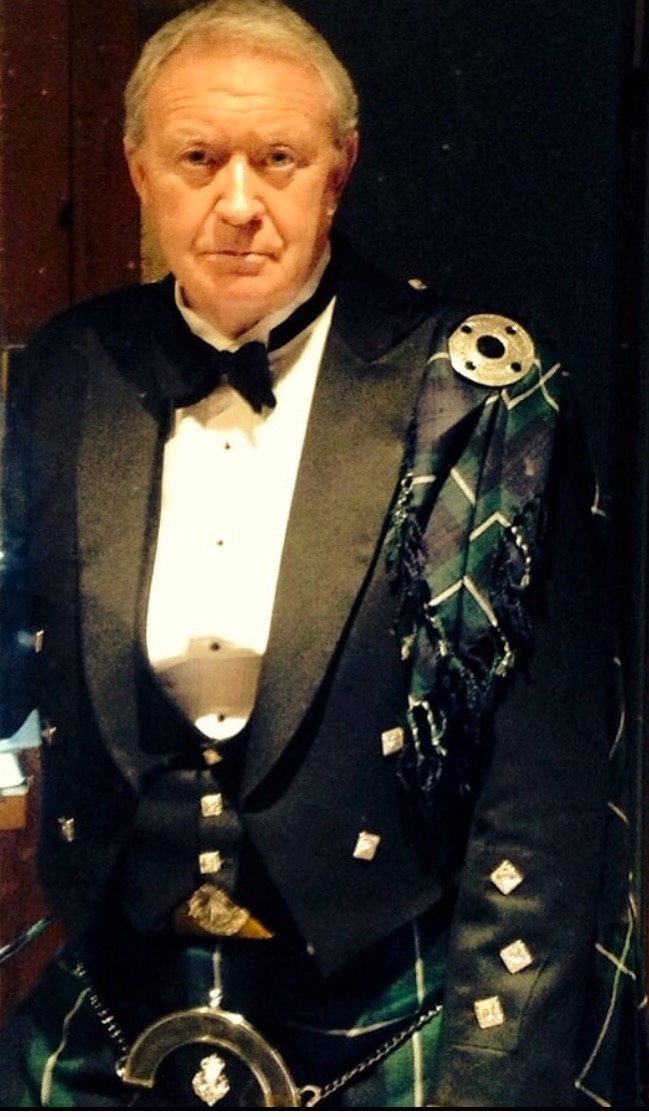 The photo below was taken at another fund-raising event to raise money for Pastor Phil English from Bethel Church in Lion's Head. Phil (purple shirt below) and his wife Caroline are dedicated missionaries in Mexico. Here Cottam and two of his acting friends (The 3 Amigos) created havoc with their comical versions of the Mexican Hat Dance, If I Had a Hammer and La Bamba at Christ Church in Lion's Head and United Church in Tobermory, Ontario.
You can view more of Cottam's acting accomplishments in the Theatrics Gallery.