Hands-On AromaMyology Massage Training at Aromatica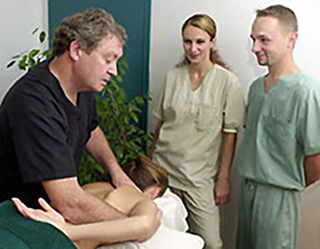 AROMATICA's Certified AromaMyology Massage Program in Ontario introduces a new expanded level of hands-on training with multiple additional modalities, over and above our standard Aromatherapy Certification Program. Graduates from the AromaMyology training program are equipped to offer a full-service practice immediately upon graduation, thereby meeting the needs of clients seeking increased levels of service, a variety of different types of treatment sessions, multi-modality treatments and multi-hour sessions in the burgeoining field of Aromatherapy Massage and Spa Services.
What Does "AromaMyology" Mean?
AromaMyology means the "Study and Practice of Multiple Forms of Massage combined in an Aromatherapy Practice."
What Hands-On Training & Certification Does AromaMyology Include?
Aromatherapy Massage Certification
Reflexology Certification (graduates are eligible to become full professional members with the Reflexology Association of Canada and receive the RCRT designation. This designation is recognised by most Canadian insurance companies offering Reflexology as part of Extended Health Care Benefit Plans.
Aroma Spa Certification (all-natural aromatherapy facials, cellulite and salt-glo treatments, body wraps)
River Rock Massage Certification
Indian Head Massage Certification
Fire & Rain Therapy Certification (an exclusive bodywork modality, available only at Aromatica)
Advanced Massage Techniques
Full-Body Paraffin Therapy
Traditional Chinese Fire Cupping & Cupping Massage
AromaMyology Massage Training Schedule
Aromatica's AromaMyology Massage Program runs twice each year, every spring and fall. Students attend classes at our rural Hockley Valley location on our ten acre property with trails and a labyrinth. Classes are scheduled in six sessions with students attending class for one week (5 days, Monday through Friday) each month for a period of 6 months. Training consists of week-long immersion in this unique program of instruction. Students are in class from 10 am to 4 pm each day. Exams are scheduled within the six month period of training and on completion.
Accommodations with Full Meal Packages are available on-site, for students requiring overnight lodging. Please request information and cost.
Curriculum
---
Home Study Component of AromaMyology Massage Certification
The home-study component of this program allows students flexible study time to meet the needs and time constraints of each individual. Module 1, the Anatomy, Physiology & Pathology section accredits the student with 100 hours study time. As well, there are home study questions to be completed for the Aromatherapy and Reflexology Programs. Home study assignments are to be completed each month between each session and are discussed on the morning of the first day of class.
Documented Clinical Hours
For each certification within the program, there are Documented Practicum Hours to be completed for each modality.
50 hrs Aromatherapy (15)
75 hrs  Foot Reflexology (50)
20 hrs  Aroma Spa (5)
20 hrs  River Rock Massage (15)
20 hrs  Indian Head Massage (15)
20 hrs  Fire & Rain Therapy (5)
*Number in brackets are number of hours of documented practica to be completed.
Research Project
A Research Project is also included in the home study, which the student is required to hand in and present in the last in-class session. Students are credited with 50 hours for the Research Project.
Examinations
There are written and practical exams for the Aromatherapy and Reflexology Programs. Practical exams must be completed for all the additional modalities. Students have eighteen months to successfully complete all examinations and documented practica.
---
Total Number of Hours: 775
Course Objectives
Students will graduate with a Diploma as an AromaMyology Practitioner upon successful completion of all exams and clinicals, as well as certificates in all the modalities completed.
Career Choices
As an AromaMyology Practitioner graduating from this program, you will be in a position to:
Establish your own home-based business
Open your own business or clinic at a location of your choice
Work with other health care professionals at Natural Health Clinics or in a Chiropractor's office
Work in Health Spas, Vacation Resorts or Cruise Ships
Establish your own Aromatherapy Retail Shop and Therapy Centre selling aromatherapy and spa products as well as offering therapies in all modalities
Admissions Requirement
Minimum 18 years of age and a High School Diploma or equivalent (mature student). All admission requirements must be completed prior to the first day of class.
Tuition Fee
Total: $7,995.00, an "all-inclusive" fee. Included in this tuition fee are all text books, massage manuals, workshop manuals, Aromatica scrub uniform (a requirement in class for the 'hands-on' training component) and all written and practical examination fees (except re-writes if required).
Registration
A completed Registration form with a $500.00 non-refundable deposit is required to reserve your place in class. The balance of payment of $7,495.00 is due on or before the first day of school. There are no refunds after course materials have been issued. Class size is limited to four students so early registration is recommended to guarantee your place in class.
Exam Fees
All exam fees are included in the Registration fees. However, if a student needs to re-write an exam or re-do a practical exam, there is an additional fee of $95.00 to be paid for each exam. Re-write fees or additional practical exam fees are not included in the Tuition Fee and are additional fees that the student is responsible for.
Course Material
All book fees are included in the Tuition Fee. Students receive an Aromatherapy Manual, Reflexology Manual and Aroma Spa Manual. In addition, you receive an Anatomy Physiology & Pathology Textbook + Companion Workbook (the Home Study component) as well as an Aromatherapy Textbook for reference. Students receive an Instruction Manual for each of the additional modalities of training (River Rock Massage, Indian Head Massage, Fire & Rain Therapy etc.) which are issued separately at the time of instruction for each of the additional modalities.