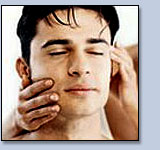 Aromatica is celebrated as the first holistic school in Canada to offer Ayurvedic training in Indian Head Massage – the form of folk massage which originated on the Indian sub continent. This program and the therapy sessions that Aromatica offers at its private clinic in Mono, Ontario continues by popular demand! Clients absolutely love these sessions and practitioners have told us they are also receiving amazing results with this unique form of massage.
Indian Head Massage is a unique stress-buster therapy that hails from the ancient Indian arts. The treatment incorporates innovative massage techniques that drain away stress and pressures while incorporating the use of specially blended oils to add luster and sheen for healthy looking hair.
Certified, licensed or registered therapists can study this decidedly different treatment modality at the school's two-day weekend workshops. The training is the first of its kind in Canada. The treatment makes a great addition to the regular massage session, or can be offered as a separate modality in the sitting position.