Reflexology Certification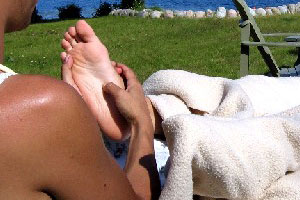 Aromatica's Reflexology Certification Training Program is approved by the Reflexology Association of Canada (RAC). Upon successful completion, graduates are eligible to apply to RAC for professional membership and receive their regular newsletter. Our reflexology training program provides an excellent introduction to bodywork and gives students a good grounding on using reflex points located on the feet to help balance various glands, organs and parts of the body.
Reflexology is known to reduce tension and stress, improve circulation and to help the body return to homeostasis or its' natural balance. Reflexology is also one of the best therapies for stres relief. Once students are introduced to this form of bodywork they often go on to further their education by adding other modalities.
Reflexology Training Curriculum
History and Theory of Reflexology
Benefits
Key Areas for Specific Conditions
Anatomy, Physiology & Pathology (10 systems)
Business & Financial
Reflexology Practical Techniques
Case Studies Assignment & Test Questions
Number of Hours: 150
Upon successful completion of this training program you receive a certificate from Aromatica as a "Certified Foot Reflexology Practitioner". With this and your school transcripts you are eligible to apply for full professional membership with the Reflexology Association of Canada (RAC).
Admissions Requirement
Minimum 18 years old and a high school diploma or equivalent (mature student).
Tuition
Total cost for the Reflexology Certification Program is $1050.00. This is an 'all-inclusive' fee which includes Aromatica's copyrighted reflexology manual, text books and exam fees.
Registration Fee
$250.00 (non-refundable deposit). Balance of tuition ($800.00) is due on the first day of class.