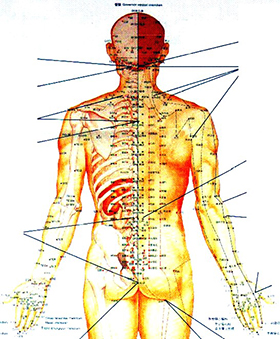 Tui Na is well suited for the treatment of all musculo-skeletal conditions with effective treatment protocols for cervical spine, thoracic and lumbar spine disorders, hips, thighs, knees, ankles and feet. Tui Na would not be considered especially useful if you are looking for a mild, relaxation massage. It is therapeutic and known as Medical Massage in China.
Unique hand techniques are incorporated such as rolling, finger-springing, press-rub, grasping, grinding, chafing to promote the flow of blood and energy (known as Qi) through areas of 'stagnation' in the body. These areas of stagnation show up as knots in tired, sore, aching muscles. These areas are devoid of blood because of increased tension in the muscle. Tui Na techniques restore the flow of blood through these areas carrying life force (Qi) and blood along energy super-highways called Meridians or Channels.
Oscillation techniques are used throughout – they keep the body moving gently. This encourages energy flow and this rhythm is one that also nurtures the human body, resonating back to life and a time spent within the womb.
You may be surprised to learn that treatment protocols for low back pain include working the whole body from head to foot as Chinese principles see the low back as a restriction in the flow of blood and Qi throughout the whole body not just in the area of restriction. A treatment for low back pain lasts an hour, therefore.
You may request one full hour of Tui Na, or prefer to have some Tui Na techniques included in your regular Myomassology (deep tissue) massage if you wish – no extra charge. We are here to serve your needs.